Sexy Lingerie Materials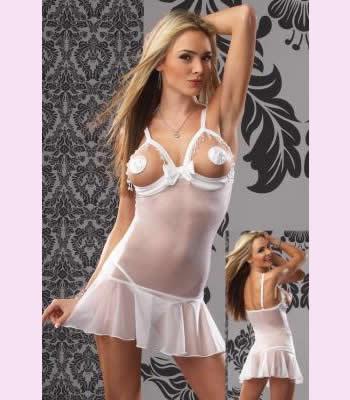 Dressing up to dress down is the perfect way to entice and seduce your partner into a romantic encounter both partners can't resist.

The materials used to makes these stunning pieces are the most important part of the outfit.
If you are not comfortable when wearing something sexy, then you won't be able to preform as well as you want to!

This article outlines the different materials used to create lingerie, helping you choose the best materials for your needs.




Cotton
This material is thicker and more comfortable than most materials. Usually night clothes and pj's are made from cotton, as it breathes well and allows you to sweat and still stay comfortable. Cotton chemises and boy shorts come in sexy styles and designs, and are a popular choice for women who want to simply roll over and fall asleep after sex!

Nylon
This is a material that also breathes well, but not as good as cotton. This material is typically stretchy and tighter, depending on what other materials it is mixed with. Strap on harnesses and sex slings usually have sturdy nylon straps, as this material is very strong and powerful. Nylon is a comfortable material for moving around, again depending on what it is mixed with. If an item of clothing is mostly nylon, it will mostly be very comfy.

Silk
Silk is a gorgeous material that comes in many thicknesses and colors. Silk is very soft to the touch and can be as much as the whole item to simply the lining. Silk is sexy and can be easy to wash, depending on what it is mixed with. Some silks are dry clean only.

Satin
Satin is another versatile material, that is usually mixed with other materials. It feels similar to velvet, and is typically considered to be a less expensive alternative to velvet. Satin can be an inner lining of some tighter outfits, such as corsets, as it is soft to the touch and breathes well.

Lace
Lace is usually a sexy decorative lining, but could also be the whole outfit. Lace is usually transparent to an extent, and comes in many colors. The perfect finishing touch to any ensemble, lace is dainty and delicate. Lace breathes well, but could prove to be slightly itchy.

Sheer
Sheer is a silky material that is usually transparent. This material comes in many different colors, and feels great againast the skin. It can be glistening or more mate. It does breath, but not very well. This material is easy to clean and wears well.

Neoprene
This material is usually used to make restraints, cuffs, and bondage type items. The benefits of this material is its ability to pull moisture away from the body and hold it in the material. This allows you to get hotter and sweatier than ever before, and still remain comfortable and not overheat. This material may be a bit more expensive, but if you are into bondage and restaining your partner, this material may benefit you well.

Leather
Leather does not breath and can keep the body very hot. It is a very sexy material, and is frequently used in domination costumes, and other sexy pieces. Leather is very expensive, and very sexy. Leather costumes can come in many colors and styles, and are usually fitted tight to the body.

These are only a few of the materials used in the creation of lingerie. There are many more fibers, materials and fabrics used, which add more elements of softness, elegance and color. Beautiful outfits start with beautiful materials! Find a partner to show off your new lingerie.